Quick Pick with Fork
QUICK PICK
The Quick Pick is a practical tool for both able and less abled horse owners, as it can be used from five different positions – enabling it to suit anyone's style, or strength.
Made here in the UK from impact resistant polypropylene which is 100% recyclable.
MATERIALS
Impact resistant Polypropylene and Aluminium – which makes the Quick Pick very light while very strong and durable.
DIMENSIONS
Overall Depth: 330mm
Overall Width: 500mm
Overall Height: 600mm
Very simple 2 screw self assembly for QuickPick (included)
The long handle is made from Aluminium with a Softex Grip. The head of the rake is made from hardened and tempered spring steel wires designed to be flexible – specifically designed with angled prongs to lift and separate muck from grass and shavings.
MATERIALS
Fork: Hardened and tempered spring steel
Handle:Aluminium with a Softex Grip
DIMENSIONS
RAKE: L 1350mm x W170mm x D50mm.
Weight: 750gm
Very simple 1 screw self assembly for QuickPick Rake (included)
PLEASE CONTACT US TO ORDER THIS PRODUCT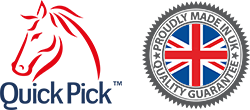 Colour Options